Careful With That Axe!
Well, '99 had been a good year for sounds but this was even better.
The musicians we've heard and seen in 2000 cover the whole spectrum of the musical rainbow:
Township Express (African township jazz)
Hugh Masakela
Eddi Reader
the incredible Santana
Stan Tracey
Noelene saw Steely Dan at the NEC
I saw Steeleye Span at Bolton Town Hall (don't confuse them as Noelene did).
The Cambridge Folk Festival was good too and closer to its folk music roots than usual. Stars were: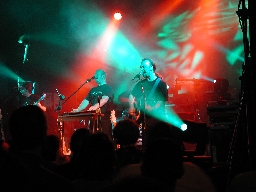 Eliza Carthy
Dr. John
Joan Baez
The Afro Cuban all Stars (who we saw again at the England vs. West Indies Test Match at Old Trafford)
Eddi Reader (again)
Billy Bragg - keeping us politically "on message"!
Tony Benn, MP (reciting, not singing) accompanied by Roy Bailey (for me the real stars of Cambridge 2000)
The year has finished with the mind blowing (I kid you not) Australian Pink Floyd Show, surely the best tribute band around today. Close your eyes and you too could be "On the Dark Side of the Moon".