Still Flying The Flag!
Politics may not be the most popular thing to write about but we're still Socialists even though we are active in the Labour Party!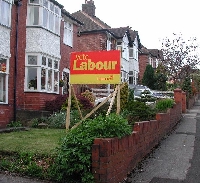 So how could I forget that 2001 was another general election year and the Great and Beloved Leader (and US Ambassador to the World!) was returned with 99.99% of the vote again. Well, the campaign wasn't as much fun as last time but we worked our xxxxx (fingers to the bone?) off to get his local acolyte, Ruth Kelly re-elected for Bolton West in fine style. And what's more, the local Party faithful have selected an excellent candidate for the 2002 council elections — ME! So, as I always say "vote early, vote often"!