Zounds What Sounds (Again)!
2001 was one of the best musical years for some time, although as I write it seems that the greatest band of all time has finally split. It's left me feeling kinda "comfortably numb"! The musicians we've heard and seen this year covers the whole spectrum of the musical rainbow:
The Australian Pink Floyd Show (as usual)
David Byrne
Stan Tracey with Philip Madoc
The Eagles (FB)
Peter Green
Kate Rusby
A "whole mess of good stuff in Ireland"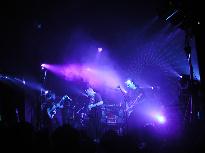 The kangaroos flying over Battersea Power station (Australian Pink Floyd Show) were there to remind us of what we've lost, since it seems likely that the Floyd have at last split, and their performance at Bolton early in the year was just right.
David Byrne (the guy in the big suit) was excellent in Manchester with a blend of his own music and from his Talking Heads past.
We saw "Stan The Man" Tracey with his band and renowned Welsh actor Philip Madoc with silky Welsh voice, perform his inspired version of Dylan Thomas' "Under Milk Wood".
And then there was the one we'd been waiting for since "Hell Froze Over", The Eagles. Even without Don Felder's voice they sang and played as never before with a mix of music from the Hotel California era to Don Henley's excellent album "Inside Job". It was a fantastic performance and one of the best concerts we have been to — ever! And there's (supposed to be) a completely new album on the way.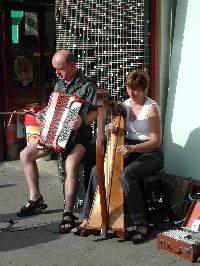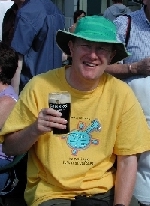 We didn't go to the Cambridge Folk Festival this year but had a wonderful Irish musical trip instead. At the Festival of Kerry in Tralee we saw (Australian) INXS (without Michael Hutchence, but maybe he was there in spirit) and a great set from (English) Jools Holland and his Rhythm and Blues Orchestra with excellent vocals from (English) Sam Brown. There was plenty of other music too, including Kila and Aslan (they're Irish!) and Gabrielle! Better still was the All Ireland Fleadh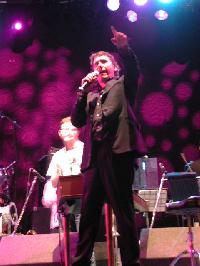 held at the same time and only about 20 miles away in Listowel. There were musicians, singers and dancers on every street corner. With that combination of music, the Irish craic, all day sunshine and a pint or two of the good stuff it was perfect.
We saw Peter Green, the founder of Fleetwood Mac, at Bolton and the wonderful Yorkshire folk singing lass, Kate Rusby in Salford. It was truly a great musical year. 2002 is already in the planning and we've so far booked to see Kate Rusby (again), June Tabor, Carla Dillon and Roger Waters (In The Flesh!).