So Where Yer Bin Giblets?
We've been everywhere man! – Ireland (twice), Norway to see our Viking ancestors, Cornwall, Germany (every month) and Noelene went on the school college trip to Florence.

In The Green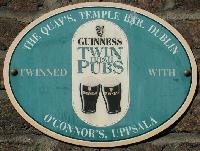 In March we went with the Goughies to Dublin to celebrate Irish culture, art, the scenery and just a wee drop of the dark stuff with the white head! If you've never been, Dublin is fantastic. It has a small town feel with the liveliness of a city. I loved in particular its history and sculpture, especially "The Tart with the Cart", "The Floozy in the Jacuzzi", "The Hags with the Bags" and "The Fag on the Crag".

More Vikings!
In April it was across a rather rough North Sea for a short trip to Norway and unfortunately sea sickness got the better of us on the way out! Even in April there was plenty of snow around and Vikings aplenty everywhere!

Giblets Galore!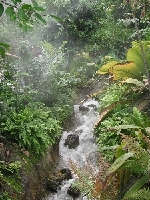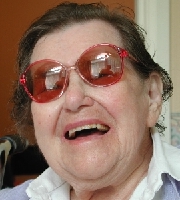 Most of the Giblets were in Cornwall this July, taking Mum to see Rob and his gang in the sunniest weather we have ever had on a visit there. Even though Mum isn't in the best of health it was great for us to be together for a while and we had a wonderful time. There's a lot to see and do in the south west and, for us, the best parts were the Eden Project, Anthony Gormley's exhibition at the Tate, Barbara Hepworth's house and The Lost Gardens of Heligan. They're all well worth a visit and the Great and Beloved Leader followed us there a month or so later, so there's no accounting for taste! (Note: This advertisement has been paid for by the Cornish Tourist Board!)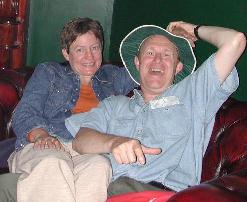 In The Green, In The Green
Later in the summer, Noelene and I took off for Ireland again, seeing mainly the west coast, a bit of the north but spending most of our time in the south west at the Festival of Tralee and the All Ireland Fleadh. Again, the weather was perfect, the people wonderfully friendly, B&B and campsite spot on and the food and drink not too bad either. Would you believe that we actually visited a place called Ballybunnion!

School Trip?
At the end of the year Noelene went with the college to Florence (Firenze to us Italianophiles!) and spend almost a week seeing the art of a bygone era. I rather think that she prefers Tracey Emin (ho, ho) but had a good time nonetheless.