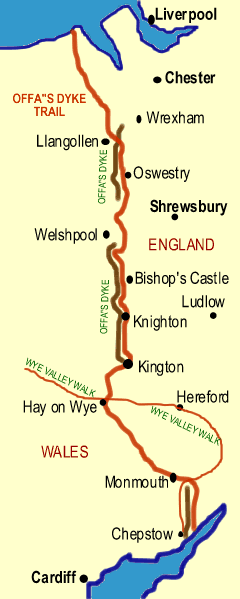 Up the Dyke - John's Offa's Dyke Path Walk - 13th - 25th July 2002
Offa's Dyke is a great earthwork built by the peasants during the reign of the Mercian King Offa about 1,200 years ago. It stretched along most of what is now the England/Wales border, almost 180 miles (290 km), and was designed not so much as a barrier but to define the border between Offa's kingdom and the Welsh to the west.

The Offa's Dyke Path is one of Britain's National Trails. It was opened in 1971 and for much of its approximately 180 miles (from near Chepstow in the south to Prestatyn in the north) it follows the line of Offa's great earthwork with the Dyke being visible for about a third of the way.

When I walked the Pennine Way in 2000 I met some famous friends, Harry and Elaine (the King and Queen of Yorkshire). She's a nurse working with elderly people. She told one of them that she was going to walk to Scotland for her holiday. The dear old lady said "Isn't there a bus, love......."

I guess that we walk because we're fortunate enough to be able to do so and the challenge is there. Besides, I'd never had a holiday in Wales before and it was either 12 and a bit days "Up The Dyke" (as Frankie Howerd would have said!) or lying on a beach in the sunshine, drinking a cool beer, surrounded by scantily clad............ Maybe I made a mistake!

There are quite a lot of Offa's Dyke Walk pages on the web these days so I'll try to cut out the usual smelly stuff and tell you how it went and what my honest opinions are. On my Pennine Way site I give the reasons why I wanted to start long distance walking and they haven't changed much at all. However, my feeble attempt at the Ballycotton 10 ten mile road race in Ireland earlier this year convinced me that my running days are certainly over! On my Pennine Way site there's also a comprehensive guide to what I took with me and therefore what you'll need for a similar trip. The only additions this time were a new 25 l North Face rucksack from the YHA Adventure Shop in Manchester, a mobile phone (yes folks I entered the age of modern communication at last - no more smoke signals when I fall down a ravine!) and a rather spiffing Nikon digital camera. I took the same wife as last time, too!

On feet all the whole distance, but as with the Pennine Way walk, I did it the wimps way. Noelene (BA Hons 1st Class) drove from Chepstow to Prestatyn, taking in the wonderful Welshness all the way, but more importantly carrying everything I needed for the walk. All I had to manage was a day sack and we stayed at B&B places each night because there just aren't any Youth Hostels actually on The Path.

Actually, not bad at all. I left Sedbury Cliffs in the afternoon on Saturday 13th July and walked the two miles into Chepstow. That knackered me, but I got up the next morning and set off for the proper slog. By the early afternoon of Thursday 25th July I was paddling in the sea at Prestatyn along with the Not a Couple, Harry and Steph who I'd met on the journey.

I'm glad you asked that! Actually, I did. As my Up The Dyke story unfolds I'll tell you about the aforementioned Not a Couple, the Blister Boys, the Three Stooges, the Sunday Strollers, the Six Year Walkers and the Two Amazons plus lots of others, almost all "nice" people. Because, as you will know, we walkers are "very nice" people (as a lady at one of the B&Bs said to me). I've never been so insulted.

Just one or two. The penalty of using a digital camera is that you take too many photos, most of which are of the "smelly stuff" variety. I took almost 400 this time and I've selected some from each day's walk. You just have to click on any image to get to the real thing. If you want copies of any of them at higher resolution just mail me.